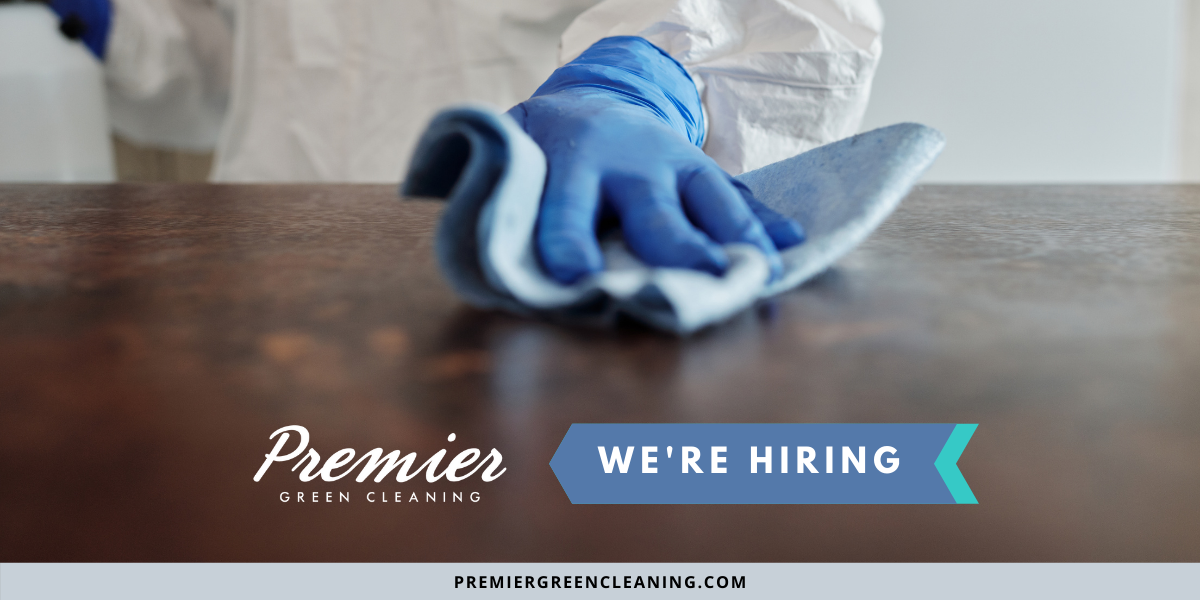 Careers
Premier Green Cleaning is all about treating people right and that's especially true for our nearly 50 employees. If you're hoping to work someplace fun with competitive pay and a flexible schedule, Premier can offer you all that and so much more. Our team works together to provide the best customer service and green cleaning solutions for our clients.
We provide thorough training and you are always supported by the office. You'll receive an iPad to ensure you are always able to communicate with the office. We also provide uniforms, the best cleaning equipment in the business and safe, effective cleaning supplies that make working at Premier one of the best housekeeping jobs out there.
Benefits include:
Competitive pay. Premier housekeeping jobs typically pay 20% more than our competitors.
Freedom. Work by yourself or with a partner, staying active and on the move.
Work during the week without giving up your evenings and all your weekends.
Build rewarding relationships with homeowners as you build your clientele.
Incentive programs to keep you happy and engaged with the company
Health and dental insurance
FT and PT positions available
Employee housing (limited)
All housekeepers who have been employed for over a year get a Premier-branded car just for work.
Job Opportunities
Client Service Operations Manager
We are looking for an organized, accountable and responsibility driven individual to join our team. If you are client focused and love exceeding expectations while thriving in a busy team environment then this is the job for you. This role is designed for the person who can recognize opportunities for improvement and then make it happen! We hire "go-getters" who can follow through on making real, sustainable change.
Our team at Premier Green Cleaning has had 14 years of consistent growth. This is due to our focus on our clients, but it doesn't stop there. We care for our team, the environment and our community. Our mission is to have a thriving business that brings positive impact to all we interact with.
The Client Service Operations Manager will deliver exceptional customer service everyday through better teamwork, effective communication and proper preparation. You will focus on the business and service side of our business by keeping the client experience and our team's wellbeing at the top of your priority list. As we are a service-based company, it is fundamental that you have the ability to interact with clients in a positive and energetic way.
We believe every client's experience matters, so consistency and quality of service are key. You will maximize efficiencies and optimize our client flow so each day can run as smoothly as possible. Team members will rely on you for assistance in challenges and roadblocks they face, so we need someone who is willing to "roll up your sleeves" and problem solve personnel and client's issues when they arise.
In this role you are oftentimes the only point of contact with our clients, making you a critical piece in continuing our journey. You will be responsible for the overall day to day customer service operations. You will manage and deliver client interactions in a consistent manner that provides an exceptional experience. This will include providing quality communication to all client inquiries within a timely manner, updating and maintaining the client/employee schedule in coordination with others, generating service estimates, and managing exceptions and service complaints professionally while maintaining regular business operations. You will also ensure compliance with all company policies and regulations.
Job Type: Full-time
Salary: $50,000
Fully paid health insurance after 90 days
Short and long term disability insurance after 90 days
Life Insurance after 90 days
Retirement plans with 3% Employer Match as per plan documents
Paid Time Off
---
Housekeepers
Come join our awesome team. As we continue to grow we are seeking year-round new team members. Current positions available include cleaning homes during the day, hotel day room attendants, evening office and overnight hotel and restaurant cleaners. $16-20/hr DOE and Shift, FT/PT, year-round. Please stop by our office at 565 N Cache Street, Unit #4 or call (307) 690-3605. (Housing available rooms for $1,000/th and apartments for $2,000/th. Utilities included).
Housekeepers: únase a nuestro increíble equipo. A medida que continuamos creciendo, buscamos nuevos miembros del equipo durante todo el año. Los puestos disponibles actualmente incluyen limpieza de casas durante el día, asistentes de habitación de hotel, limpieza de oficina por la noche y limpieza de hoteles y restaurantes durante la noche. $ 16-20 / h DOE y turno, FT / PT, todo el año. (Habitaciones disponibles para alojamiento por $ 1,000 / th y apartamentos por $ 2,000 / th. Servicios públicos incluidos).
Your perfect and rewarding career path starts with us. Contact us today!