Fear of COVID-19 spreading in your home or place of business is very real. Taking the time to disinfect after cleaning can help lower the risk of spreading infection.
CDC: How to Best Fight the COVID-19 Virus
The CDC released this information to the public on the how to best fight the COVID-I9 virus. According to the CDC's knowledge of the virus it is transmitted via respiratory droplets within 6 feet away from human-to-human. The virus can also be transmitted by fomites (objects or materials which are likely to carry infection, such as clothes, utensils, and furniture). Currently based on evidence the virus can live on a variety of surfaces from hours to days. Cleaning of visibly dirty surfaces followed by disinfection is a best practice measure for prevention of COVID-19 and other viral respiratory illnesses in households and community settings.
Clean & Disinfect
Surfaces
Wear disposable gloves when cleaning and disinfecting surfaces. Gloves should be discarded after each cleaning and hands washed immediately after removal.
Cleaning surfaces with detergent or soap and water.
For disinfection, diluted household bleach solutions, alcohol solutions with at least 70% alcohol, and most common EPA-registered household disinfectants should be effective.
Clothing, towels, linens and other items that go in the laundry
Wear disposable gloves when handling laundry from an ill person.
Clean hands immediately after gloves are removed.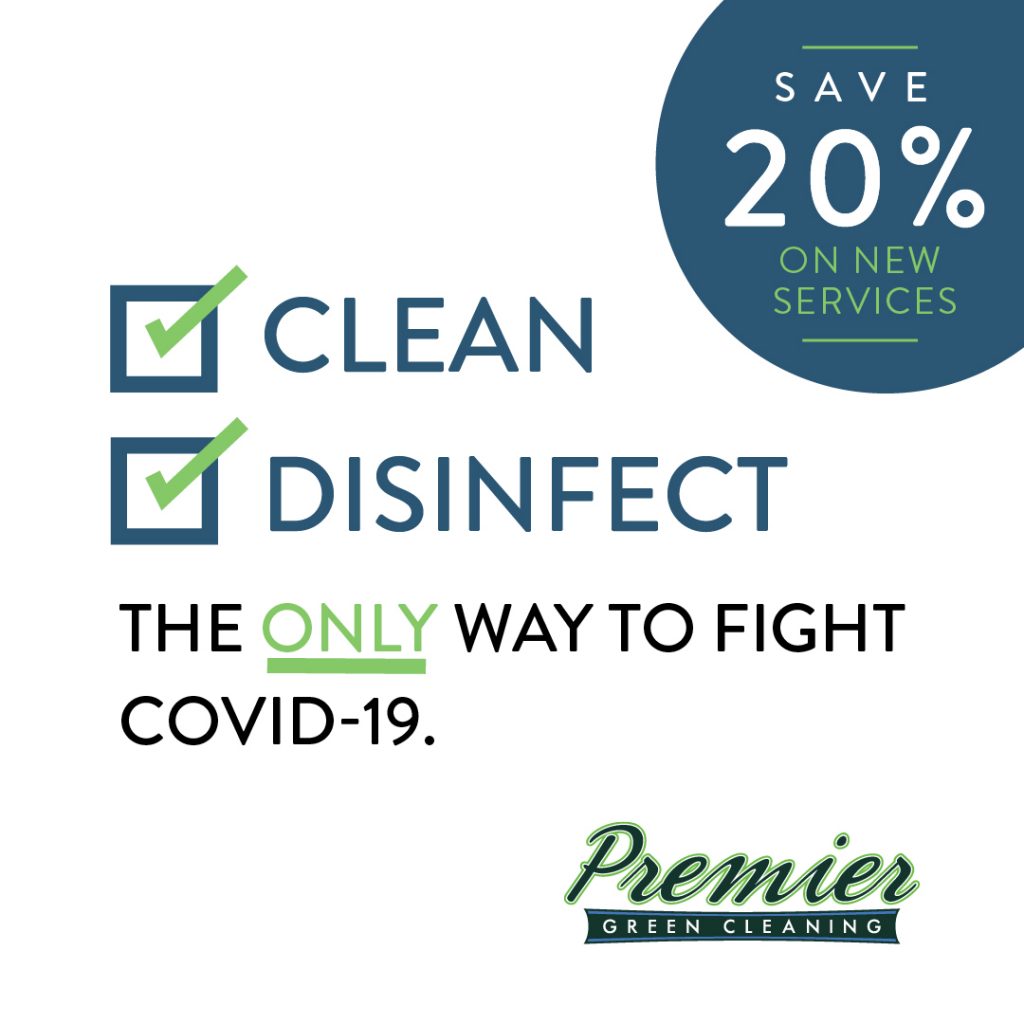 Add a new service:
✅ Disinfect to your cleaning and get 20% off that service.
This deal applies to new clients only. Offer expires May 30, 2020.
We clean with a conscience — and it shows! 🧽🧹😒🦠
Premier's Precautions
Our Premier office staff are all working from home. Housekeepers have new precautions as well as and are being extremely careful. They now wear booties covering their crocs, gloves, supplies and additional measures are taken as well.
Our existing practices include a variety of measures to prevent the spread of germs including thorough cleanings of all bedrooms, living and/or family rooms and common areas, strict adherence to employee hand-washing practices and sanitizing wipe-downs of all surfaces in bathrooms, kitchens and beyond.
It will be essential for our cleaning services to continue despite closure. We are fully prepared to respond to ensure the Jackson Hole community receives the cleaning services it needs.