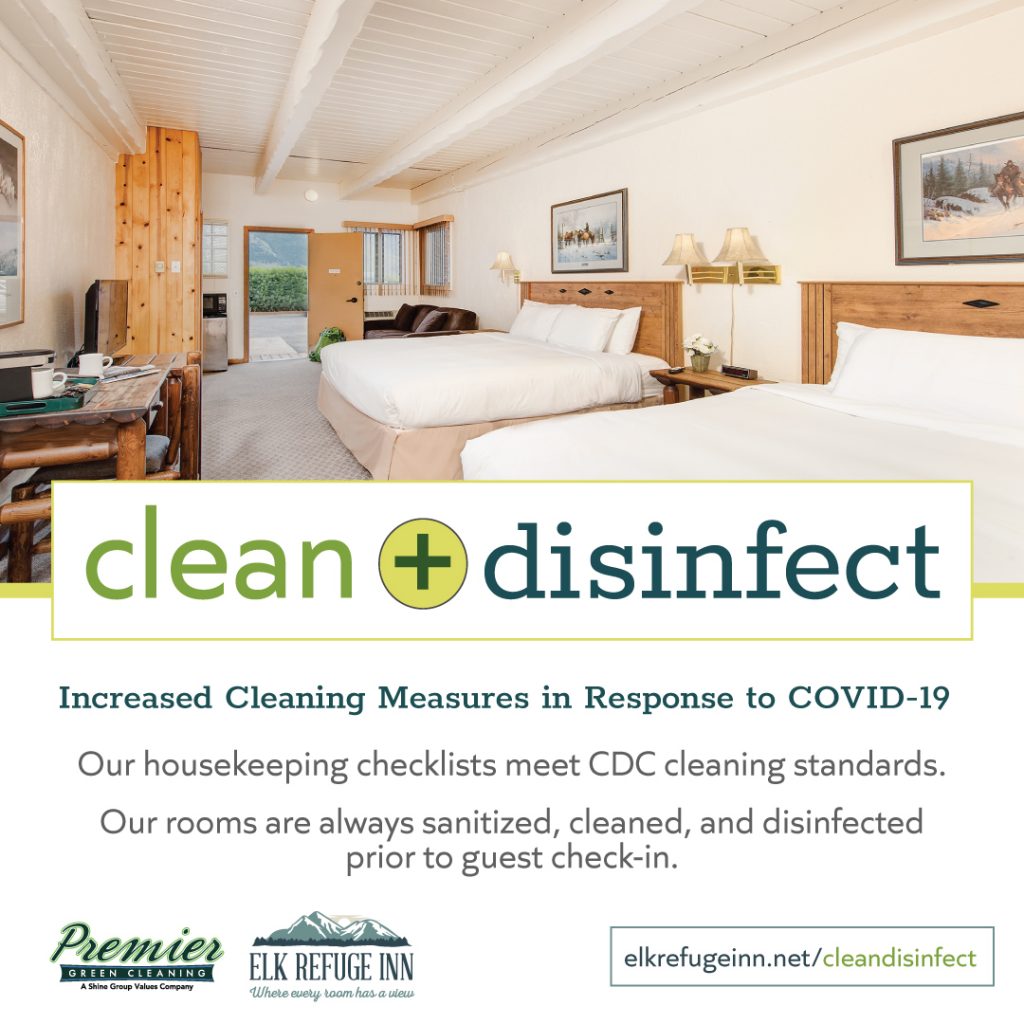 We are proud to team up with our sister company, Elk Refuge Inn in administering this new Clean + Disinfect Initiative in order to ensure their guests feel confident during their stay.
Our top priority to make sure their rooms are always sanitized, cleaned, and disinfected prior to guest check-in.
In light of the current COVID-19 pandemic, Elk Refuge Inn will be moving forward with operations by taking extreme caution to ensure the health and safety of our guests and employees alike. We have been closely monitoring the guidance and recommendations of the Centers for Disease Control and Prevention (CDC) as well as federal, state, and local governments.
Increased Cleaning Measures
Our staff will be taking a number of extra measures for cleaning the rooms and facilities.
General Cleaning:
Every single room will have a full and thorough cleaning and disinfection prior to another check in.
Housekeepers will be utilizing and changing gloves/cleaning cloths prior to each cleaning.
Housekeepers will be utilizing masks in all rooms.
Shower curtains inserts will be disinfected and changed daily.
Stay overs will not be provided cleaning

However we will be providing additional coffee and amenities to each room
Towels and extra sheets can be requested and delivered immediately during business hours
Laundry bags will be provided for all guests and may be left outside the door.
Laundry:
All sheets and towels will be cleaned with higher standard of disinfectant.
Laundry staff will wear masks and glove
Front desk:
Will wear and utilize masks when interacting with guests
Non-contact process for all guest check in and check out.
Front door, counter and any areas a guest could come into contact will be disinfected after every check in and out.
Staff Precautions:
We will be following CDC guidelines and closely tracking, addressing any symptoms for identifying potential COVID-19 cases
Temperatures will be taken daily
Staff will not be allowed to work if they have traveled, have been exposed to a confirmed case or believe to have any symptoms.